07 Dec 2020
10 NEW RESOLUTIONS FOR THE SUPPLY CHAIN IN 2021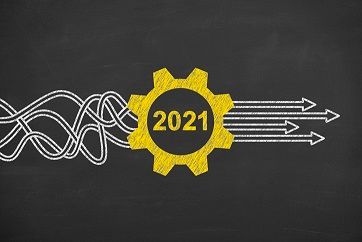 The lessons learned in 2020 will strengthen our future
In some respects, 2020 has made it apparent just how critical the entire supply chain is to society. The global pandemic has definitely accelerated development, but it's also revealed weaknesses. All in all, this year has given the many niches within the supply chain a crash course in what is needed to thrive in the future.
Supply chain resolutions for 2021:
1 Our logistical suppliers will be a hybrid of global and local. We never know when we'll need one more than the other.
2 Automation is a no-brainer. It improves order fulfillment, enhances productivity and can cover for sick or quarantined workers.
3. We will invest in humans as well as automation. Robots give us efficiency. Humans give us flexibility.
4. We will negotiate smart, strategic 3PL partnerships. We will explore digital technology, micro-fulfillment sites, and shipping contracts.
5. We will invest in integrated supply chain technology. End to end connectivity keeps us synchronised and informs fast decision-making.
6. We will cater to the growing demands of e-commerce. This means prioritising speed, accuracy, availability and communication.
7. We will take omni-channel as a given. The customer experience demands it and this affects everything from fulfillment to delivery, and requires an understanding of everything from in-store engagement to social media orders and reviews.
8. We will rethink inventory strategy. Sometimes historical data forecasting is unhelpful. Monthly planning meetings are obsolete; we will focus on real-time data.
9. Long-term safety strategies will incorporate pandemic response measures. Health screenings, PPE and intelligent contact tracing and people counting are now a way of life and an expectation on business.
10. We will never use the word 'unprecedented' ever again. Unprecedented is the new precedence. When the unexpected happens, we will adapt quickly.