25 May 2018
Breakfast in Byron Bay: Reusable platforms support efficient and sustainable flows from family farm to family plates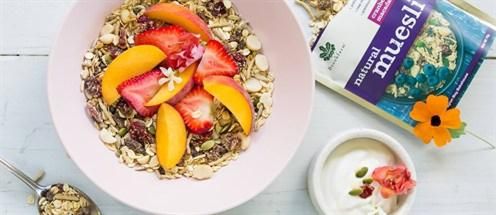 Brookfarm is an award winning family-owned food manufacturer and producer of macadamia products. Founded in 1999 by Pam and Martin Brook with the support of their two sons – Will and Eddie, Brookfarm is today one of Australia's leading producers of premium quality macadamia based products.
From its humble beginnings selling toasted and natural muesli at the local Bangalow market, this family business is in a continued state of expansion with 70 employees working together and sharing the same values – passion for quality, passion for a better environment and passion for great tasting healthy food.
The range features macadamia mueslis; walkabout mixes; roasted macadamia nuts; natural and infused macadamia oils and recently a boutique range of Gin liquor products. Brookfarm prides itself on quality and partners with suppliers and distributors that align with their values. Their products are available direct from their website along with selected food stores, cafes, restaurants, resorts, hotels and on board domestic and international airlines.
To safely handle and move their products, Brookfarm uses CHEP pallets and Unicon Plus Containers. These sustainable platforms are compatible with the company's existing supply chain infrastructure, and the durability and strength of the pallet ensures reliability of performance.
Speaking about Brookfarm's partnership with CHEP, Mr Brook said: "CHEP pallets are very common in the food industry and this extensive usage provides the basis for low cost and seamless unit load movements within and between our suppliers, our bakehouse and distributors in the supply chain."
"It starts on the family farm where we all feel a connection to where our produce comes from; our passion to produce the highest quality real food, to make a difference to our community and our commitment to care for the environment has been inherit since day one.
"CHEP is a credible supply chain partner and are strongly positioned to supply our needs, ensuring our operations keep moving and that our ingredients and end products flow efficiently."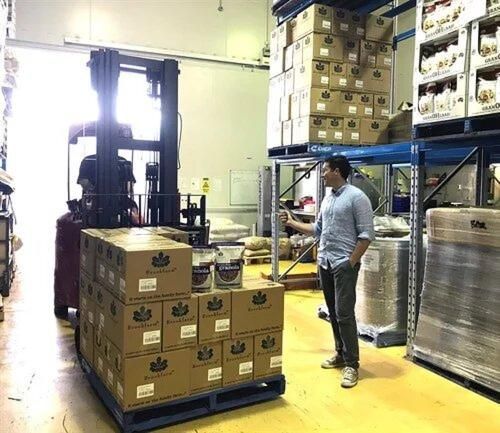 The Opportunity
Two years ago, Brookfarm alongside their honey supplier identified an opportunity to optimise supply chain performance. Their previous process for containing and moving bulk honey involved single use steel drums and heat blankets. This required a fairly large capital outlay to purchase these drums and a time consuming cleaning process. The drums were costly to handle and dispose of, creating waste, safety risks and inefficiencies.
The Solution
The increasing cost of this process and environmental burden of drum disposal didn't align with Brookfarm's sustainable business model. Alongside their honey supplier, Brookfarm worked with CHEP to seek alternative options that would support a seamless supply chain and maintain their high standards of product integrity. Brookfarm and its honey supplier now use CHEP's reusable Unicon Plus Containers with heater base board and liner bags. These platforms alongside the share and reuse of CHEP pallets help deliver sustainable results.
The Results
Speaking about converting to CHEP's Unicon Plus Containers with heater base board and liner bags plus also using pallets, Mr Brook said, "Together with our honey supplier, we've seen first-hand the benefits of using CHEP's platforms. We've been able to unlock efficiencies within the supply chain; improve food and workplace safety, save time and costs, and reduce our environmental impact."
These platforms assist with efficient storage and transport, reduce costs and waste incurred from one-way alternatives, and provide a better fit for use in food grade environments.
After analysing Brookfarm's usage of CHEP pallets with CHEP's environmental lifecycle assessment calculator (LCA)*, it is clear this is a sustainable partnership. Lachlan Feggans, CHEP's Senior Manager of Sustainability for the Asia Pacific region, said: "We're proud to acknowledge our partnership with Brookfarm. By sharing and reusing CHEP's timber pallets we have successfully eliminated approximately: 420 x 240 litre wheelie bins of waste each year and saved carbon emissions equivalent to planting 114 trees (76 tonnes of CO2) through avoiding single use pallets."
Mr Brook said, "These results align with our commitment to care for the environment and complement Brookfarm's program to directly regenerate and reconnect the beautiful temperate rainforests on our farm.
"CHEP is a key partner within our supply chain that supports us with quality platforms that we use to efficiently and sustainably move our high value products where and when they are needed."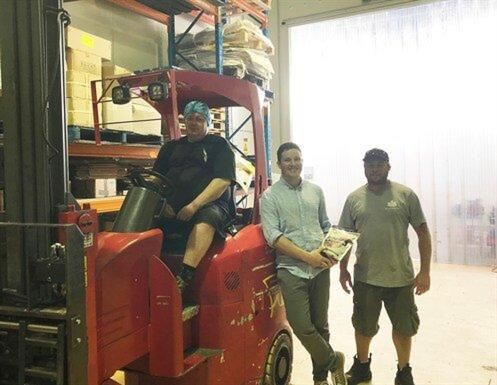 *Note: CHEP LCAs are independently peer-reviewed and compliant to ISO 14044: 2006 Environmental Management – Life Cycle Assessment. Sustainability data and calculation methods are assured by KPMG as part of Brambles' annual Sustainability Review. More information available at www.brambles.com/sustainability-goals
---