FORKLIFTACTION REPORT: An eventful year Down Under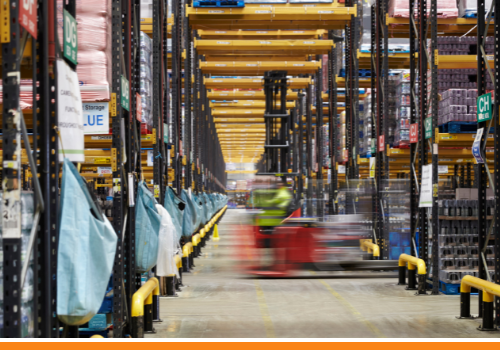 Materials handling showed its resilience Down Under, with significant fleet renewals and a number of automation projects completed in the past year. Forkliftaction's Allan Leibowitz recaps on a busy year in Australasia.
Materials handling in Australia was buoyed by strong performance in the broader economy. As reported at the start of the year, a $225 billion national commitment to infrastructure projects from state governments, delivered over the next four years, was warmly welcomed by the business community, including the Australian Logistics Council.
"Investment in infrastructure combined with a collaborative approach with industry to planning for preservation of freight lands and corridors are key to a successful and functioning future economy," said Kirk Coningham, CEO of ALC. "Providing clarity and security of the pipeline encourages investment."
Analysis in the first quarter revealed that forklifts were among the fastest-growing industrial equipment purchases in Australia.
NAB statistics showed businesses across Australia were purchasing new equipment and vehicles in record numbers as companies embraced the strongest market conditions seen in years.
In a briefing around that time, Combilift founder Martin McVicar noted record Australian sales for the Irish manufacturer in the first quarter of 2021, and he told Forkliftaction News he was confident the growth would be sustained.
Business confidence got a boost from the Federal Budget in May, with the Australian Chamber of Commerce and Industry particularly pleased with the increased investment in skills.
The ALC praised the investments in the National Freight Data Hub and the National Heavy Vehicle Regulator announced in the budget.
Forklift dealers were already benefiting from instant investment write-offs, and business groups were pleased to see a budget extension of the arrangements.
The budget measures meant that businesses with a turnover or income of less than $5 billion could immediately write off the cost of assets they first used or installed by 30 June 2023.
Automation activity
There were a number of significant automation developments in 2021, starting with Lion Australia future-proofing supply chain and manufacturing operations at its Tooheys Brewery in Lidcombe, NSW with Dematic Automated Guided Vehicles (AGVs).
"The implementation of AGVs was part of a widespread initiative to optimise operations within the Tooheys Brewery and across the entire business," says Tim Symonds, packaging manager at Tooheys.
Australia's oldest family-owned meat processor, John Dee, commenced the implementation of the Dematic Multishuttle Meat Buffer Storage and Handling System at its Queensland abattoir in Warwick to meet growth in customer demand and streamline operations in sub-zero conditions.
Also in May, Australian footwear retailer Spendless Shoes began to implement Manhattan Associates' Warehouse Management Solution (WMS) to reinvent its out-dated supply chain operations and gain the flexibility to adapt to current and future changes in the retail market. Spendless Shoes' decision to introduce the Manhattan solution to its distribution centre in Adelaide, South Australia stemmed from its previous challenges with not having company-wide visibility of inventory, as well as the ongoing changes associated with the pandemic, such as growth in online sales and lockdowns.
Meanwhile, Australian retailer Woolworths announced plans to construct a new automated customer fulfilment centre (CFC) in Auburn, New South Wales to better serve the online grocery needs of Western Sydney customers. The facility will be built in partnership with Knapp, whose automation technology will help Woolworths' personal shoppers pick and dispatch up to 50,000 home deliveries a week in Western Sydney.
In June, Thomas Foods International prepared to deploy Dematic automation at its new meat processing facility in Murray Bridge, South Australia. After its original processing plant was destroyed by fire in 2018, Thomas Foods International made a commitment to rebuild the plant "bigger, better and stronger". The new flagship facility, currently under construction, will offer a future-proof, fully optimised supply chain to service local and global demand for decades to come.
A new fully automated purpose-built distribution centre, powered by state-of-the-art technology, including driverless forklifts, opened in Truganina in Melbourne's west in July. Built by Toll for Mars Wrigley Australia, the warehouse uses 17 automated guided vehicles (AGVs) to manage most of the workload. The AGVs interface with the existing warehouse management system to track product flow from production to storage and all the way through to dispatch. One of the first of its kind in Australia, the new centre can house 50,000 pallets, holding the equivalent of more than 700 million Mars bars.
Meanwhile, as part of its network optimisation strategy to increase its competitiveness in the pharmaceutical industry, leading Australian pharmaceutical wholesaler Sigma Healthcare automated operations at its new Perth and Brisbane distribution centres (DCs) with the Dematic Goods-to-Person (GTP) Picking Solution.
Sigma selected the fully automated Dematic solution as the central system to improve operational efficiencies at its two new DCs. Sigma's switch to automation stemmed from previous supply chain challenges experienced with legacy systems deployed at other DCs, which were restricting the ability to continue to improve service delivery to customers.
In October, Amazon revealed that its new Sydney warehouse will double the online retailer's operational footprint in Australia and will rely on Robotic Drive Units to boost productivity.
The robots do much of the heavy lifting, picking up mobile shelves and bringing them to employees, who check and pack the items before they are sent on their way, according to an article in the Engineers Australia journal, Create.
In October, Lactalis Australia, part of global dairy producer Lactalis, invested in an additional AGV for its fleet, in a bid to boost warehouse-wide efficiency at its Lidcombe milk site in NSW. With the addition of a fifth Dematic AGV to operations, Lactalis is now able to expand automation to more areas within the warehouse.
Later, Daikin switched on the ignition to Manhattan Associates' Manhattan SCALE warehouse management solution (WMS) at its new distribution centre in Warwick Farm, Sydney. Manhattan SCALE serves as an all-encompassing automated warehouse solution to optimise manufacturing, fulfilment and dispatch operations at Daikin Park – the largest air conditioning DC in Australia. By offering end-to-end visibility and flexible control over DC operations, the new solution allows Daikin to better manage and expand operations to meet the huge growth the company has experienced in Australia over recent years.
Read the full industry roundup here, to learn about the fleet expansions, supplier and safety developments that shaped the news in 2021.