09 May 2018
How optimising global freight forwarding can lead to big supply chain savings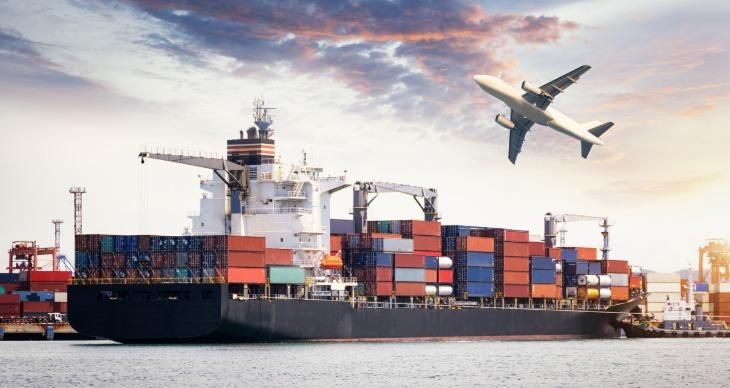 The multichannel retail business model, along with increasing levels of global sourcing, have created staggering opportunities for importers and exporters around the world, whether they be huge multinationals or small companies shipping globally for the first time. But as global supply chains become increasingly complex, logistics professionals are faced with significant new challenges in terms of managing the many nuances of global freight forwarding.
According to a survey of 191 enterprises, conducted by the Aberdeen Group, the rising costs of supply chain management (i.e., fuel, labour, total landed costs, etc.) were cited as the top business pressures for 51% of respondents. This was closely followed by the growing complexity of global operations, such as longer lead times and lead-time variability for increasing numbers of suppliers, partners, carriers, customers, countries and logistics channels.

In this highly competitive environment, finding ways to cut costs and maximise efficiency in the supply chain is critical – and global freight forwarding just might hold the key, according to third-party logistics provider (3PL) C.H. Robinson. In a white paper entitled, "Global Forwarding: Biggest, fastest savings", they reveal how logistics professionals can leverage people, processes and technologies to save both money and time in the global forwarding supply chain.
In the paper, C.H. Robinson identify three key areas for optimisation: cargo consolidation, cargo risk management and customs management. We summarise their findings here.
Cargo consolidation
Few companies are able to fill an entire ocean or air container with their own freight, so shippers often work with freight consolidators to combine their cargo with other shippers, allowing them to access better freight rates and cargo security measures.
This is crucial, as taking advantage of space is one of the biggest areas for savings in a global supply chain. While any company can use these services, they're especially beneficial for those with lean supply chains or those that operate in just-in-time environments, as they can move smaller quantities of material more frequently, thereby spending less on inventory, storage, returns and other costs.
When it comes to choosing between air or ocean consolidation, businesses have to weigh the required service level with transit times. While ocean consolidation is significantly cheaper, the transit times are also much longer compared to air consolidation. (For more information, refer to C.H. Robinson's white paper on "Optimizing your supply chain with air cargo".)
Cargo consolidation best practices
Choose a forwarder:

With sufficient freight volumes to effectively consolidate without delays and to aggressively negotiate rates with ocean and air carriers.
With dedicated space allocations for capabilities when they are needed.
Who works in major markets with high flight capacity.

Consider global transportation options: those who think of transportation services – ocean, air, and land – in a compartmentalised fashion can miss out on time and cost savings.
Cargo risk management
According to the World Shipping Council, an average of 1390 containers per year were lost at sea in 2014, 2015 and 2016. Even with proper packing, stowage and securing of containers, there are a number of unforeseen events that could potentially result in delay, ruin or loss of cargo, including acts of God, theft, counterfeiting, political unrest, labour disputes, documentation errors or mechanical problems.
Despite these risks, many companies place supply chain risk management at the bottom of their priority list. Indeed, according to a paper by the Global Supply Chain Institute at the University of Tennessee, only 25% of a typical company's end-to-end supply chain is being assessed in any way for risk.
Importers and exporters need to understand the risks their cargo could face in transit, and be able to quantify this in dollar terms. This can assist companies in purchasing the appropriate amount of marine cargo insurance.
Cargo risk management best practices
Buy the appropriate amount of marine cargo insurance for ocean or air shipments.
Ensure the valuation clause for a given shipment defines the maximum amount an insurance company will pay for a loss. Most valuation clauses include the commercial invoice value and any prepaid charges associated with the shipment, such as freight, customs clearance, or duty. This clause can be modified to include other charges or profit margin – if requested and approved by underwriters.
Choose an insurance intermediary with experience or specific training in international logistics and transportation insurance.
Customs management
When it comes to customs management, even simple mistakes (such as an incorrect spelling on a declaration) can result in fines, other penalties or even cargo seizure.
That's why it's so important for businesses to have a customs broker that they trust, who understands the company and its products, and who knows how to navigate each country's compliance requirements with their own specific set of customs rules, governmental regulations, VAT, duty rate calculations and payment plans.
Importers and exporters must also be highly knowledgeable about commercial laws, such as those laid out in Incoterms® (International Commercial Terms), which define the responsibilities of sellers and buyers for the delivery of goods under sales contracts, and establish where the transfer of risk takes place. As the rules vary according to the situation, knowing the rules that apply to your freight can save you money – if you know what to look for.
They must also stay on top of the changing landscape of free trade agreements, in order to be able to derive benefits. For example, savvy importers who have the necessary documentation can file their claim before the cargo ever arrives in port, thereby enjoying the advantages of having their freight released immediately so it can make its way to the customer.
On the other hand, importers who don't have the information that allows their cargo to be classified before reaching port – and therefore qualified to benefit from free trade agreements – can experience stressful and costly delays after the cargo leaves the vessel and is held in storage. Delays can result in hundreds of dollars in storage fees per day.
Customs management best practices
Buyers are not transportation and compliance professionals who understand Incoterms® – they choose suppliers based on favorable pricing. Firms can establish internal structures or education to help buyers understand how Incoterms® impact risk management and pricing.
Rely on a customs professional to leverage customs data. They can combine a company's unwieldy historical shipping data into usable trade reports to help organisations learn whether they are taking proper advantage of free trade agreements around the world.
Utilise the power of technology
Many companies rely on a transportation management system (TMS), hoping to keep their fingers on the pulse of their global supply chain providers. However, few TMSs can enable global visibility to every shipment, or can interconnect disparate systems on multiple continents to provide the level of visibility to show where products are at any given point in time.
A truly global supply chain network has a single TMS architecture that spans all continents. Global visibility enables an organisation to clearly see its entire supply chain. Utilisation reports for multiple services and modes (air, ocean, rail and road) on all continents confers specific strategic advantages:
Continuous improvement to supply chain logistics in real time
Access to business intelligence, crossing all freight and spend categories to strategically understand the impact of decisions
Access to a centralised network of multiple providers – without integrating individually with each provider
Organisations can work with a logistics provider that offers a full suite of services, manages service performance, consistently communicates performance metrics, and offers strategic optimisation to gain distinct advantages in their marketplace.
If you want to learn about the latest in global freight forwarding, don't miss out on CeMAT Australia 2018, the leading trade fair for supply chain management. Be sure to register for your free visitor pass today.
---