03 Sep 2020
Step 9: Safeguarding your future-proofed warehouse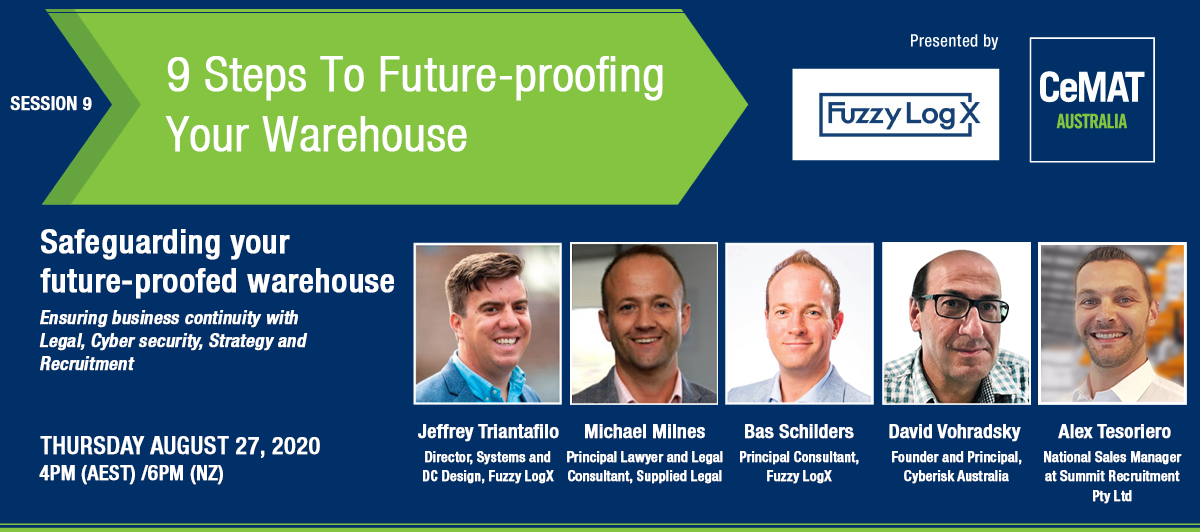 Now that you have created a warehouse that operates at optimum efficiency for maximum customer satisfaction and is resilient against spikes in demand, what can you do to make sure it stays that way?
Saving the best until last, the final of 9 Steps to Future-proofing your Warehouse took a deep dive with lively and informative discussion about ensuring business continuity with foresight and strategic approaches to cyber security, legal contracts and recruitment.
Below is a recap. You can catch the full recording here.
CYBER SECURITY
David Vohradsky, Founder and Principal, Cyberisk Australia
The big picture: Cyber security has evolved to mean having the right sort of governance – people, processes, technologies – to protect yourself against attack or damage or unauthorised access.
The big threats in 2020: Being cyber resilient is a business problem. Key risks are phishing emails (currently with COVID-19 news), ransomware attacks, AV updates and patching, the vulnerabilities of home networks and devices and how they can weaken the warehouse cyber perimeter.
"The connections in automation are the potential cyber failure points." – Jeffrey Triantafilo, Director – Systems and DC Design, Fuzzy LogX
LEGAL
Michael Milnes, Principal Lawyer and Legal Consultant, Supplied Legal
The big picture: Getting contracts right between the warehouse, suppliers and employees from the beginning - obligations and expectations– is key to making the entire warehouse environment and network robust.
Key legal considerations: constantly changing supply chain laws; compliance requirements; data security – both enterprise and personal data; employment laws; health and safety.
Tip: The people factor is hard to measure, hard to control and changing circumstances change everything.
PEOPLE
Alex Tesoriearo, National Sales Manager, Summit Recruitment
The big picture: There is a need to motivate people to want to train and work in automation and robotics because the demand for these skills will only increase while the supply is decreasing.
Why? Over the past several years, warehousing has changed shape and shifted so fast. The drive for greater efficiencies and cost effectiveness, is driving the uptake in solutions like automation, voice picking, and different materials handling tools. In turn, these require changing skills from employees. The warehouse and distribution industry is one of fastest growing in Australia but there are less people looking to move into the sector than before.
MORE DISCUSSION POINTS
End to end due diligence
Education of staff regarding cyber threats
Challenging security assessments
Labour hire contracts
The gig economy and a casual workforce
Key takeaway: Warehouses need to involve outside specialists with expertise in bolstering safety – technology, legalities and recruitment – earlier rather than later.
Watch the recording.
Missed anything? The entire webinar series of 9 Steps to Future-proofing your Warehouse can be accessed and viewed at your leisure or as the need arises here.
Topics covered include: receiving; inventory; put-away; replenishment; order picking; packing and mobile automation; and dispatch.